These fluffy, moist oatmeal blueberry banana muffins are easy to make and delicious to eat. They are perfectly baked to have that beautiful dome shaped muffin top.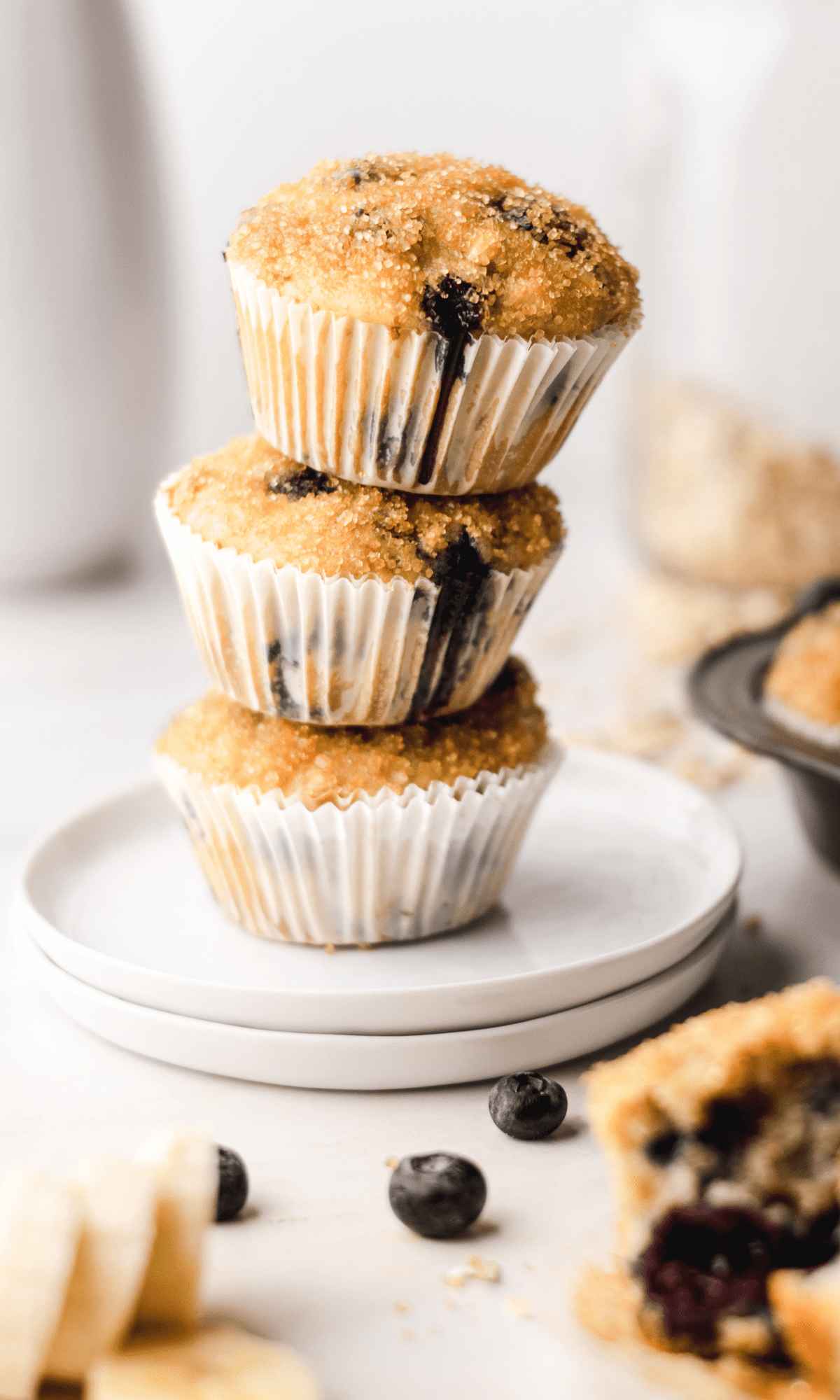 Banana Blueberry Oatmeal Muffins
These tender and healthy blueberry muffins are great to eat for breakfast. You can even prepare the batter the night before and pop them in the oven the next morning to have warm, fresh muffins to start your day.
The oats in these muffins make them feel a bit heartier than the average muffin. The juicy blueberries and ripe bananas are paired together to make these muffins moist and full of flavor.
After these muffins are baked, you brush them with melted butter and coat the tops in turbinado, or raw, sugar which gives them a perfect little crunch in every bite!
These are best when they are still warm from the oven and slathered in butter, of course. A perfect and quick breakfast, in my opinion!
If you are looking for more breakfast recipes, try one of these: Coffee Overnight Oats, Bacon Apple Dutch Baby, or Strawberry Cream Cheese Muffins.
Jump to:
Why You Will Love These
The fruit. The banana in these muffins not only tastes delicious, but it makes them super moist. The blueberries add beautiful color and their flavor combined with the banana is perfect! This is a great way to use up overripe bananas.
The muffin top. Who doesn't love a good muffin top? These guys are baked at a high temperature for the first part of the baking to help jump start that dome forming. This makes these muffins look like the ones you would get at a breakfast diner! The turbinado sugar on top of the muffins adds a perfect crunch.
The texture. Allowing the batter to sit for at least an hour, but ideally overnight, gives the batter time to thicken. This helps give these muffins their perfect fluffy consistency. The banana, oil and buttermilk all help to prevent these from drying out.
Ingredients & Substitutions
Here are notes about some of the ingredients needed to make these healthy blueberry banana oatmeal muffins. You can all of the ingredients for this easy recipe at your local grocery store or at an online retailer, like Amazon.
Cooking spray: You can use muffin liners for these, but you will still want to be sure to spray cooking spray on the tops of the muffins tins so your muffin tops don't stick.
Flour: All purpose flour measured by scooping into the measuring cup and leveling with a knife.
Sugar
Baking powder
Baking soda
Salt
Oats: Old fashioned rolled oats will work best for this and give the texture that makes these muffins so good! Instant or quick oats would work, but will give the muffins a different texture. Steel cut oats would not work for this recipe.
Banana: Ripe, mashed bananas are what you will need here for the most delicious flavor. I have used bananas that aren't quite ripe and the flavor isn't nearly as good, so wait until you have those extra ripe ones! You need about 2-3 bananas.
Eggs
Buttermilk: Full fat or low fat buttermilk works fine for this.
Vegetable oil: If you have canola oil, that would work too. You really just want to be using a flavorless oil for this.
Vanilla extract
Blueberries: Fresh blueberries work great. Frozen blueberries would work too.
Butter: You will use melted butter to brush on the tops after baking.
Turbinado sugar: The muffin tops are dipped in the turbinado sugar after brushing them with the melted butter. This gives them such a fancy looking, almost sparkly top. The crunch of the sugar is pretty fun too.
Step by Step Instructions
Here is how to make this delicious blueberry muffin recipe. You will need a 12-cup muffin pan and muffin liners. I prefer to use these white muffin liners, but any standard size liners will do! See the recipe card below for the full ingredient list and instructions.
STEP 1: In a large mixing bowl, combine the flour, sugar, baking powder, baking soda and salt. Stir this with a whisk.
STEP 2: Add the oats and stir to combine. Set this bowl aside.
STEP 3: In a separate large bowl add the wet ingredients (bananas, eggs, buttermilk, vegetable oil, and vanilla.) Whisk ingredients together until fully combined.
STEP 4: Carefully add the banana mixture to the flour mixture. Fold the two mixtures together with a rubber spatula just until combined and the dry ingredients are fully mixed in.
STEP 5: Add the blueberries to the bowl and gently fold them in until combined.
STEP 6: Tightly cover the bowl and place it in the refrigerator for at least one hour, or overnight.
STEP 7: Preheat oven to 425°. Spray the top of a 12-cup muffin pan. Line muffin cups with a paper liners.
STEP 8: Fill each muffin liner about ¾ of the way full with the muffin batter.
STEP 9: Bake in the 425° oven for 9 minutes. Reduce the heat to 350° and continue to bake for 7-9 minutes or until a toothpick inserted in the middle comes out mostly clean.
STEP 10: Remove the muffins from the oven and let them cool in the pan for 5 minutes. Carefully remove them from the pan and transfer to a wire rack to cool 10 more minutes or until fully cooled.
STEP 11: Place the turbinado sugar in a shallow dish or bowl. Working with one muffin at a time, brush the top with the melted butter and then dip or roll the muffin top in the turbinado sugar.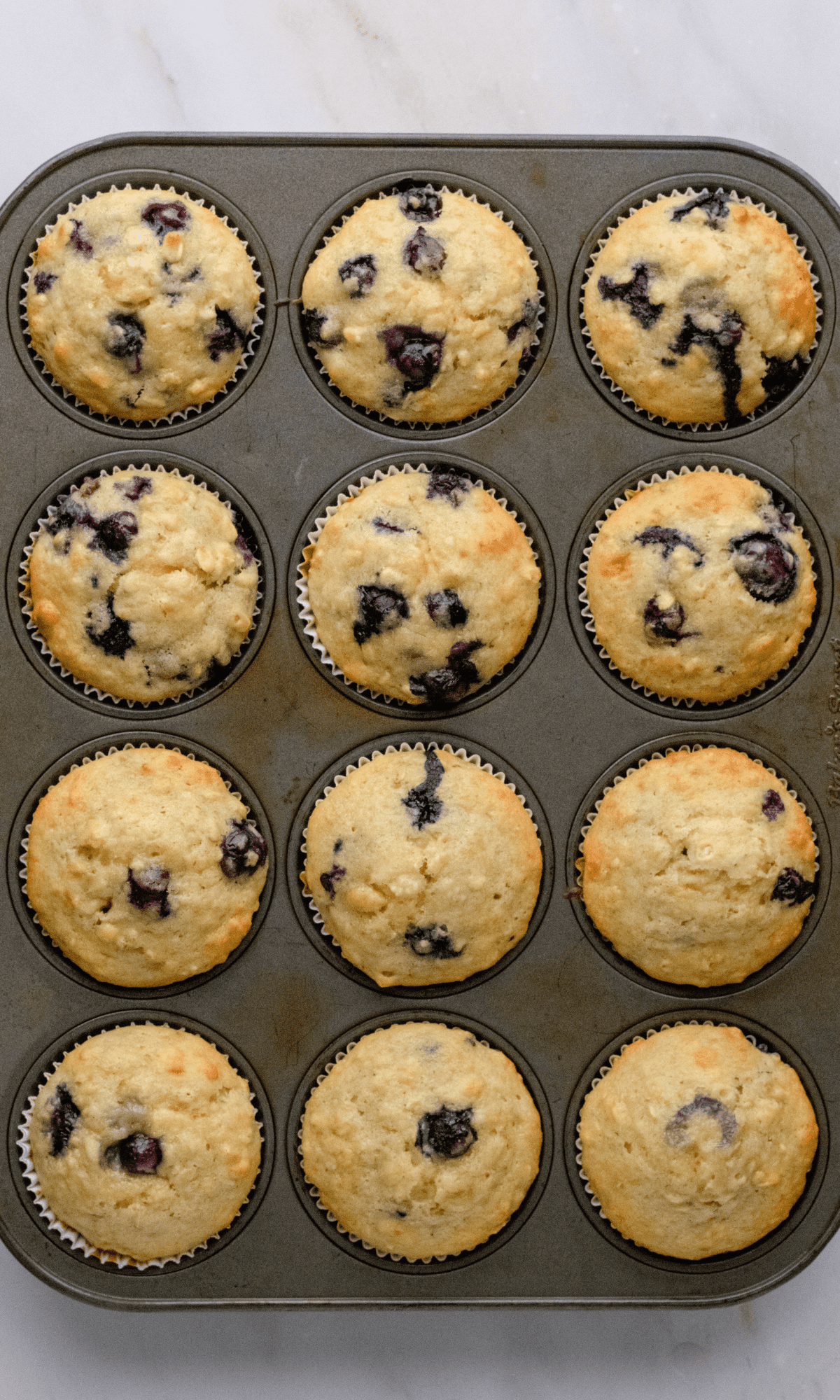 Expert Tips
Here are some tips to help you make this great recipe for blueberry banana oatmeal muffins:
To mash bananas, peel and place them in a bowl. Using a fork, mash them until they are mostly smooth. A few lumps in there will be okay, but you'll want the consistency to be pretty smooth.
To lightly beat the eggs, crack the eggs into a bowl. Using a fork or a whisk, quickly beat the eggs until the yolk and white are thoroughly combined and light pale in color, about 15-20 seconds.
Do not over mix your batter! Only mix until you no longer see the dry ingredients. Over mixing will make your muffins tough and dry, so be careful!
Use a large cookie scoop to put the batter into the muffin liners. It's less of a mess and it helps you evenly distribute the batter.
Using a toothpick to test the doneness of the muffins will help you get them baked to perfection. Insert a toothpick in the center of a muffin and if it comes out mostly clean with a few crumbs, it's ready. They are not ready if the toothpick comes out wet, and if it comes out totally dry, you've probably cooked them a bit too long!
FAQ
Can I use frozen blueberries?
Yes. I prefer fresh blueberries for this, but frozen work just as good!
Can I make these muffins in a jumbo muffin tin?
Yes! These blueberry banana oat muffins are great in a jumbo muffin tin. You will still bake these at 425° for 9 minutes but when you reduce the temperature to 350°, adjust the baking time to 26-28 minutes or until a toothpick inserted in the center comes out clean.
Do I have to use muffin liners?
You don't have to use liners. You can make these banana blueberry oat muffins without but you will want to be sure to thoroughly coat the cups with cooking spray to prevent sticking.
Storing and Freezing
Store baked muffins in an airtight container at room temperature for up to 2 days or in the refrigerator for up to 5 days.
You can freeze these muffins in an airtight container or zip top bag for up to 3 months. When ready to heat, thaw on the counter or in the refrigerator. You could also wrap them in a paper towel directly out of the freezer and microwave for 30-45 seconds, or until thawed and warm.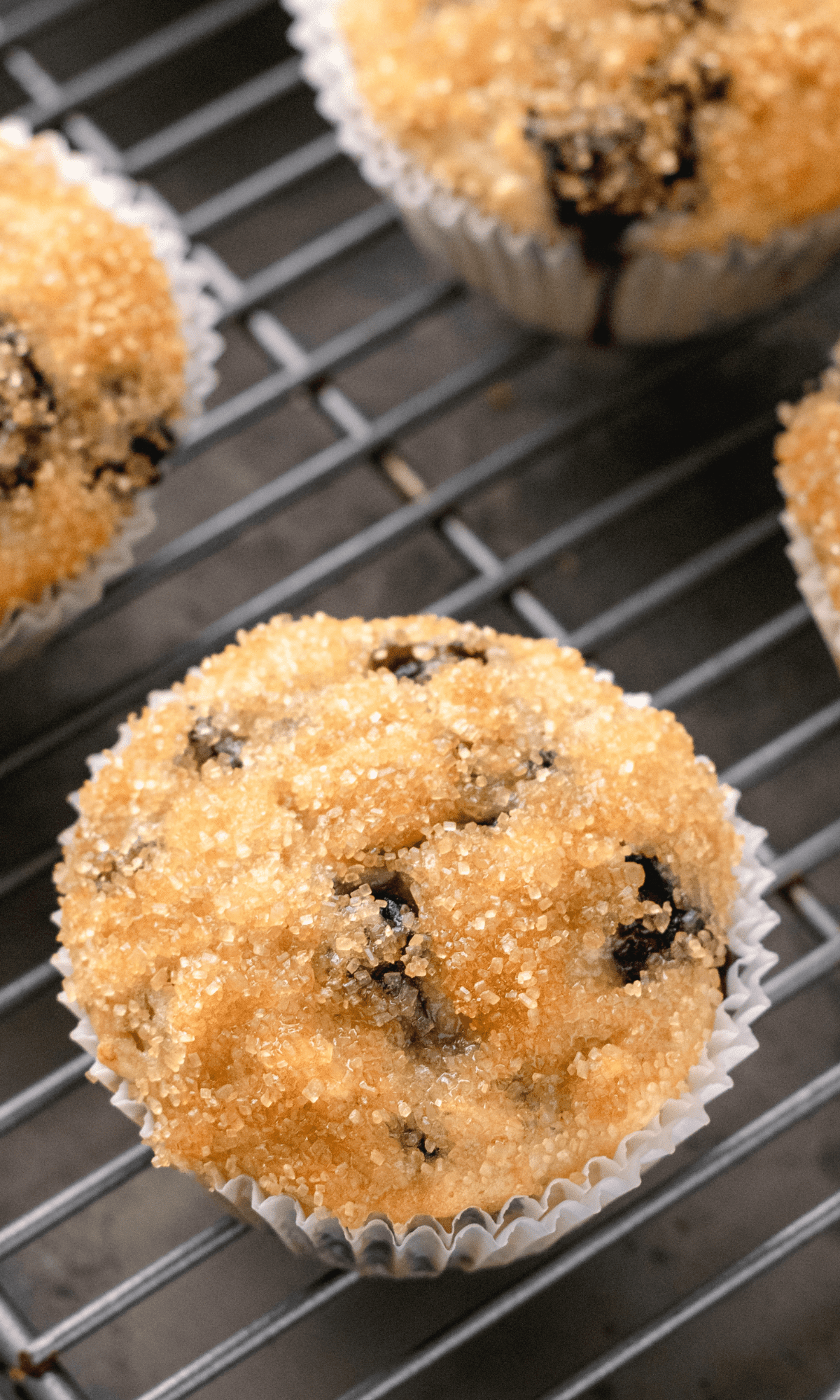 Other Recipes to Try
To use the leftover buttermilk from these banana blueberry oatmeal muffins, try one of these recipes:
Don't forget to leave a star rating below! This helps both me and other readers! Follow along on Instagram, Pinterest and Facebook and subscribe to my newsletter so you never miss what Hey, Snickerdoodle is up to!
Recipe
Oatmeal Blueberry Banana Muffins
These fluffy, moist Oatmeal Blueberry Banana Muffins are easy to make and delicious to eat. They are perfectly baked to have that beautiful dome shaped muffin top.
Ingredients
1 ½

cups

flour

⅔

cups

sugar

1 ½

teaspoons

baking powder

¼

teaspoon

baking soda

¼

teaspoon

salt

¾

cups

old fashioned rolled oats

1

cup

mashed ripe banana (about 2-3 large)

2

eggs, lightly beaten

⅓

cup

buttermilk

¼

cup

vegetable oil

1

teaspoon

vanilla

1

cup

blueberries

2

tablespoons

butter, melted

½

cup

turbinado sugar
Instructions
In a medium sized bowl, combine the flour, sugar, baking powder, baking soda and salt. Stir with a whisk to combine. Add oats and stir to combine.

1 ½ cups flour,

⅔ cups sugar,

1 ½ teaspoons baking powder,

¼ teaspoon baking soda,

¼ teaspoon salt,

¾ cups old fashioned rolled oats

In a separate medium sized bowl, combine the banana, eggs, buttermilk, vegetable oil, and vanilla. Stir to combine.

1 cup mashed ripe banana (about 2-3 large),

2 eggs, lightly beaten,

⅓ cup buttermilk,

¼ cup vegetable oil,

1 teaspoon vanilla

Add the banana mixture to the flour mixture and stir just until combined and you no longer see any of the dry ingredients.

Carefully fold in the blueberries just until incorporated.

Tightly cover and place muffin batter in the refrigerator for at least an hour.

Spray the top of a muffin tin with cooking spray. Line cups with muffin liners.

Preheat oven to 425°. Fill muffin liners ¾ of the way full.

Bake at 425° for 9 minutes. Reduce temperature to 350° and continue to bake for 7-9 additional minutes or until the muffins are lightly browned and a toothpick inserted into the middle comes out clean. Do not over bake or they will be dry.

Let them cool in the muffin tin for 5 minutes and then carefully remove and transfer to a cooling rack to cool completely.

Place the turbinado sugar in a small bowl. Brush the tops of the muffins with the melted butter and roll the tops in the sugar, carefully coating the entire muffin top.

2 tablespoons butter, melted,

½ cup turbinado sugar
Nutrition
Calories:
229
kcal
Carbohydrates:
37.7
g
Protein:
3.5
g
Fat:
7.7
g
Saturated Fat:
2.5
g
Cholesterol:
33
mg
Sodium:
112
mg
Potassium:
186
mg
Fiber:
1.5
g
Sugar:
21
g
Calcium:
49
mg
Iron:
1
mg