This Pear Blue Cheese Salad combines the flavors of juicy pears with sharp blue cheese, toasted walnuts and a tangy walnut oil vinaigrette. This intense flavor combination atop a bed of mixed greens and sprinkled with dried cranberries will be your new go-to salad.
This is a perfect meal in itself but also great alongside your main course for dinner. This salad always impresses a crowd and you'll be glad you made it! It's perfect for your next dinner party.
You could easily add grilled chicken to this green salad and make it a great lunch or dinner option. You could also serve this in a big bowl as a side to your main dinner course.
For more salad recipes, try: The Best Roasted Sweet Potato and Goat Cheese Salad or Summer Pesto Chicken Pasta Salad.
Jump to:
Why You Will Love This
The walnuts. The toasted walnuts on this salad add the perfect amount of crunch and go so nicely with the pears and blue cheese. Along with the crunchy walnuts sprinkled on top of the salad, the homemade dressing contains roasted walnut oil which has amazing flavor and just brings that walnut flavor out even more!
The pears. Topping this salad with sweet, ripe pears makes this a perfect fall salad. The sweetness of the pears is a great pair with the tangy blue cheese.
It is easy. You can make the dressing quickly and throw the salad together in a large bowl in just a few short minutes. This makes it perfect for busy weeknights!
It is pretty. Once you have assembled this salad, it is so pretty with all the colorful ingredients atop the mixed greens. It's perfect for your holiday table!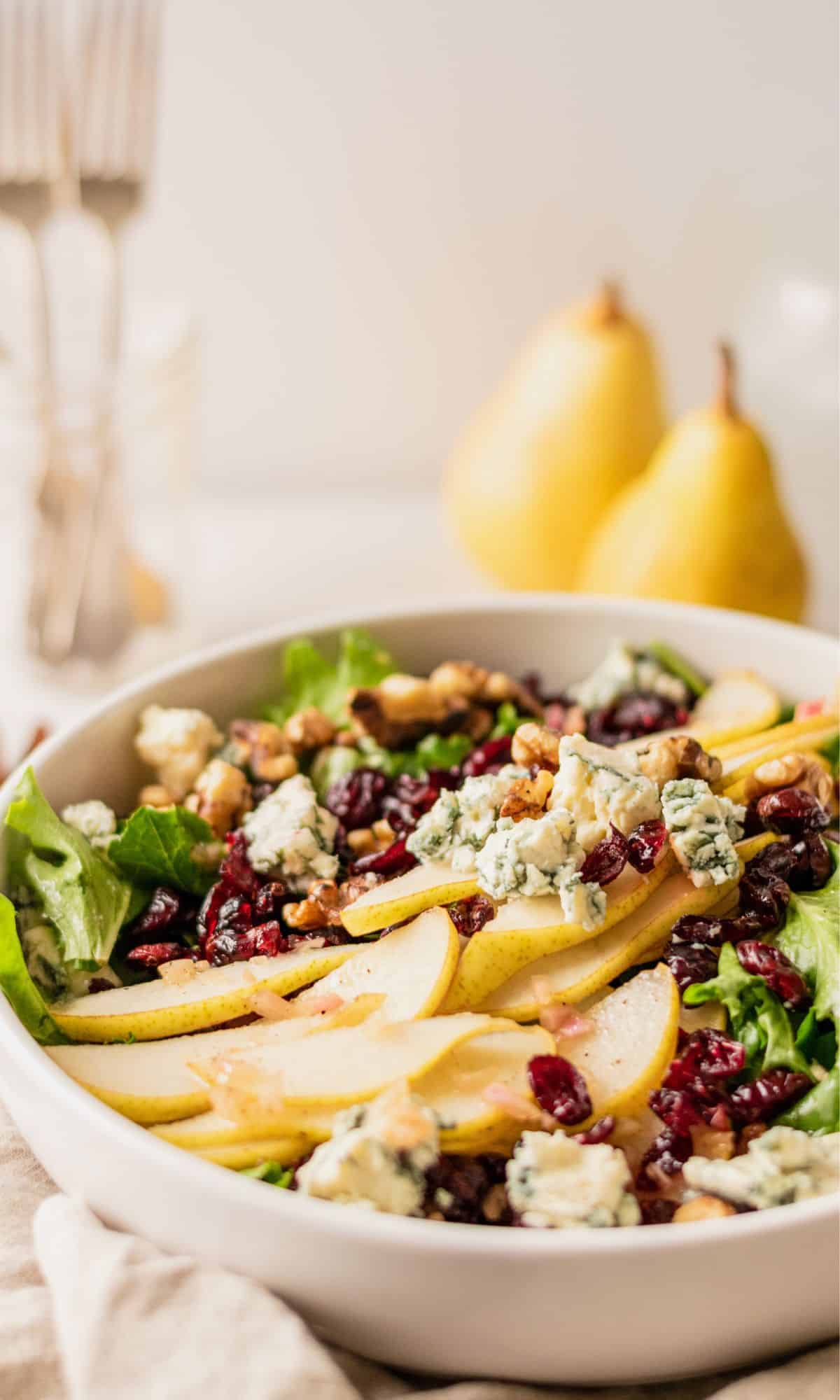 Ingredients Needed
Here are some notes about the ingredients needed to make this pear walnut salad. All ingredients can be found at your local grocery store or at an online retailer, like Amazon.
Red wine vinegar: If you don't have red wine vinegar or don't have access to it, you could substitute with balsamic vinegar or apple cider vinegar. You want to be sure you are replacing it with something that has a similar tang because that is part of what makes this salad so delicious!
Shallot: Sometimes shallots are hard to find and the best substitute would be a yellow onion. A red onion would be great too!
Walnut oil: I prefer to use this roasted walnut oil. Sometimes roasted walnut oil is hard to find. You could use almond, hazelnut or olive oil in its place.
Honey
Lemon
Salt & pepper
Mixed greens: I prefer the mixed baby greens that I can find at my grocery store. Tender baby spinach or any other leafy greens would work great too.
Pear: A ripe pear that gives slightly when pressure is applied is ready to be eaten. You will want to use ripe pears for this.
Walnuts: You can use whole or coarsely chopped walnuts. I think whole walnuts look best, but chopped are sometimes easier to eat in a salad. You can chop the walnuts before or after you toast them.
Dried cranberries: Dried tart cherries would be a fantastic substitute here.
Blue cheese: I prefer to purchase a wedge of quality blue cheese and crumble it myself, but you could also purchase blue cheese crumbles. If you are not a fan of blue cheese, you could substitute feta cheese in its place for a less strong cheese flavor.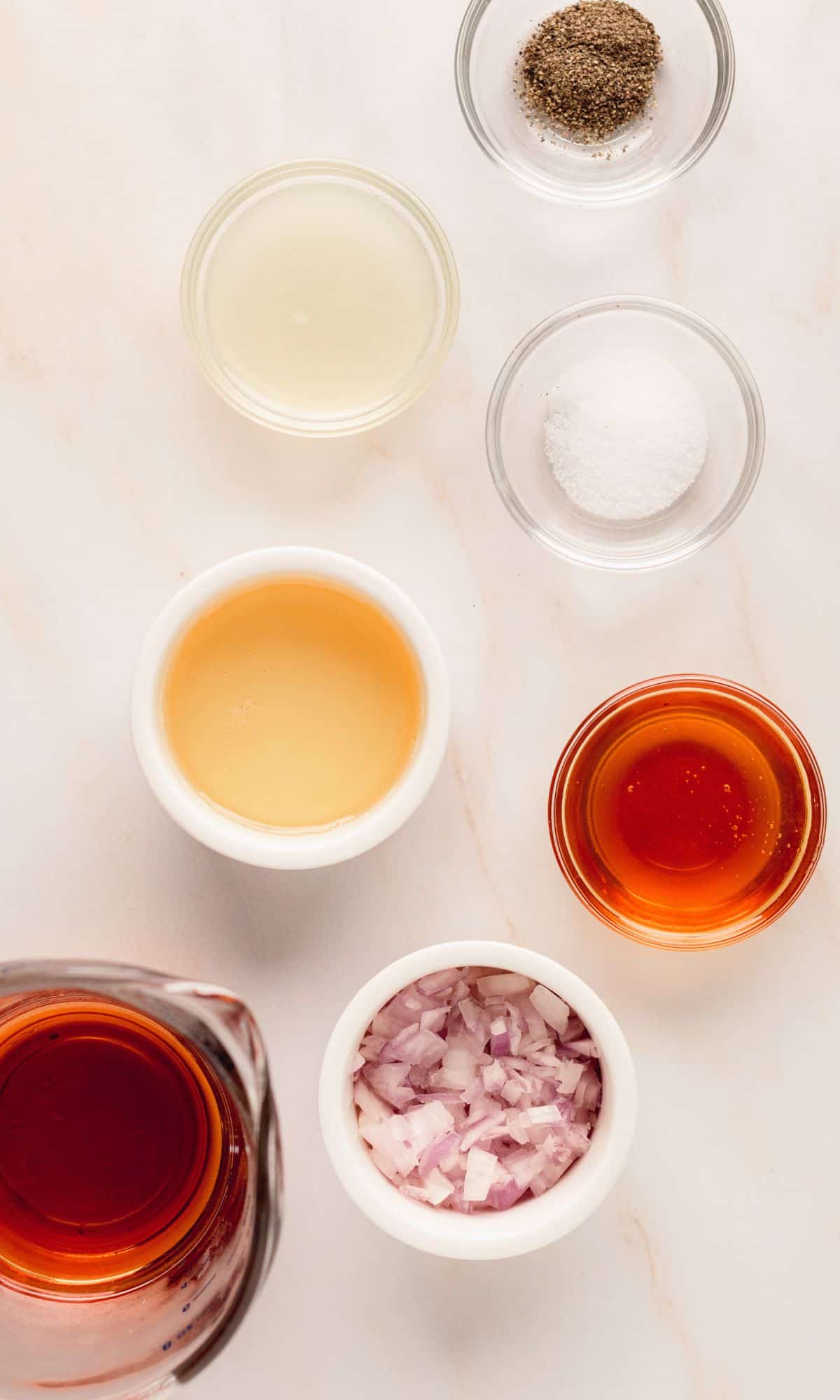 Step by Step Instructions
Here is how to make this delicious pear blue cheese salad recipe. You will need a jar with a tight fitting lid and a large salad bowl.
Prepare the Vinaigrette
STEP 1: In a glass jar with a tight fitting lid, combine the red wine vinegar, shallot, walnut oil, honey, lemon juice, salt, and pepper.
STEP 2: Secure the lid tightly on top and shake vigorously to thoroughly combine the ingredients. Alternatively, you could use a whisk to thoroughly combine the ingredients.
Build the Salad
STEP 1: In a large serving bowl, start by adding the mixed greens. Next, place the pear slices on top. Sprinkle the top with the toasted walnuts, dried cranberries and blue cheese.
STEP 2: Drizzle with the vinaigrette and serve immediately.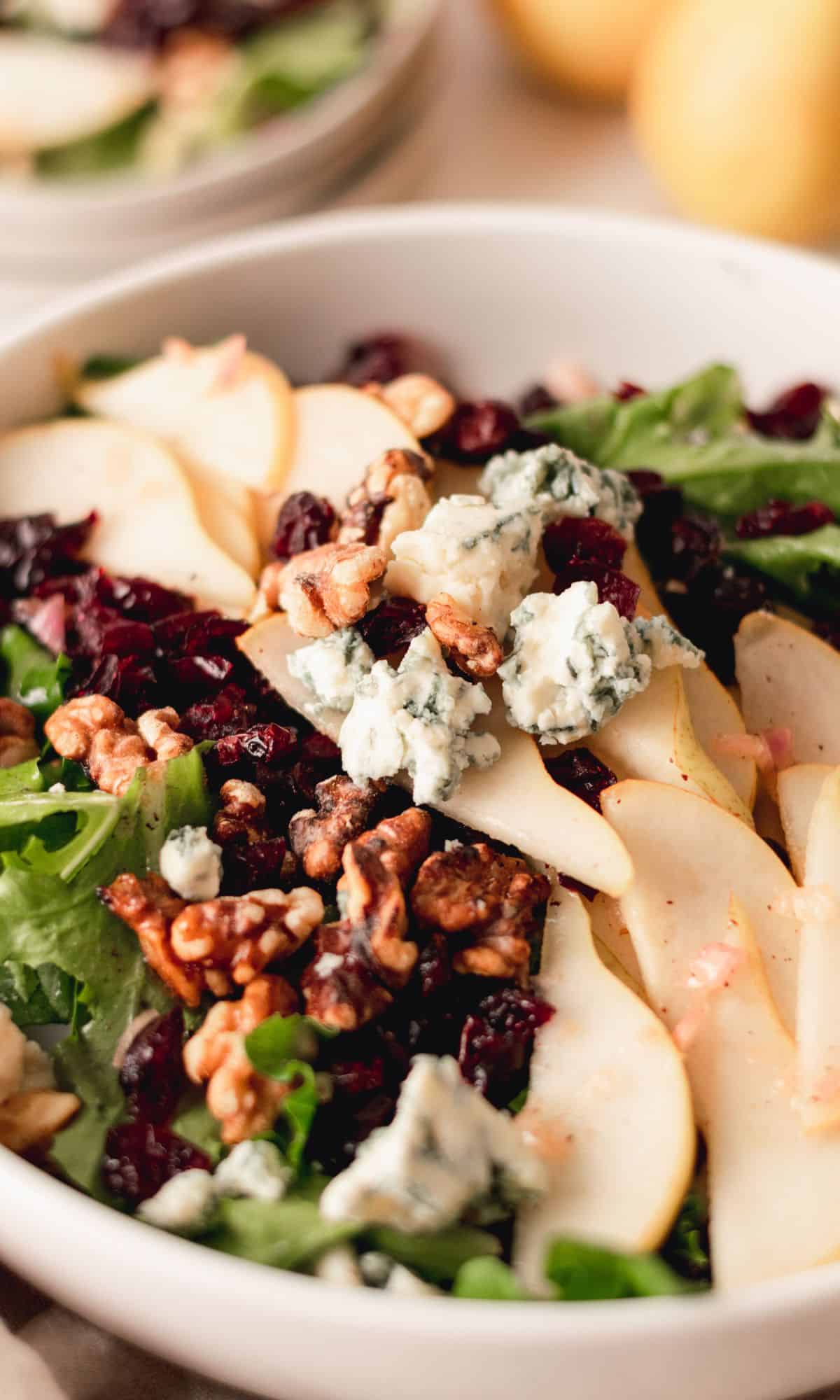 Expert Tips
Here are some tips for making this easy salad.
To toast the walnuts, place them in a small frying pan and heat over medium heat. Shake or stir frequently. They are toasted when they are fragrant and notice that they are starting to brown.
I prefer to serve prior to tossing it because you can lay all the ingredients out on the salad in a very pretty way. You could toss the salad before serving it and it will taste just as delicious! Serve it on a large platter or in a pretty salad bowl.
Substitute apples, peaches or nectarines for the pears for a bit of a different taste.
Try candied pecans or candied walnuts in place of the toasted walnuts for an extra special crunchy treat.
Try replacing the dried cranberries with pomegranate seeds.
Use maple syrup in place of the honey for a slightly different flavor.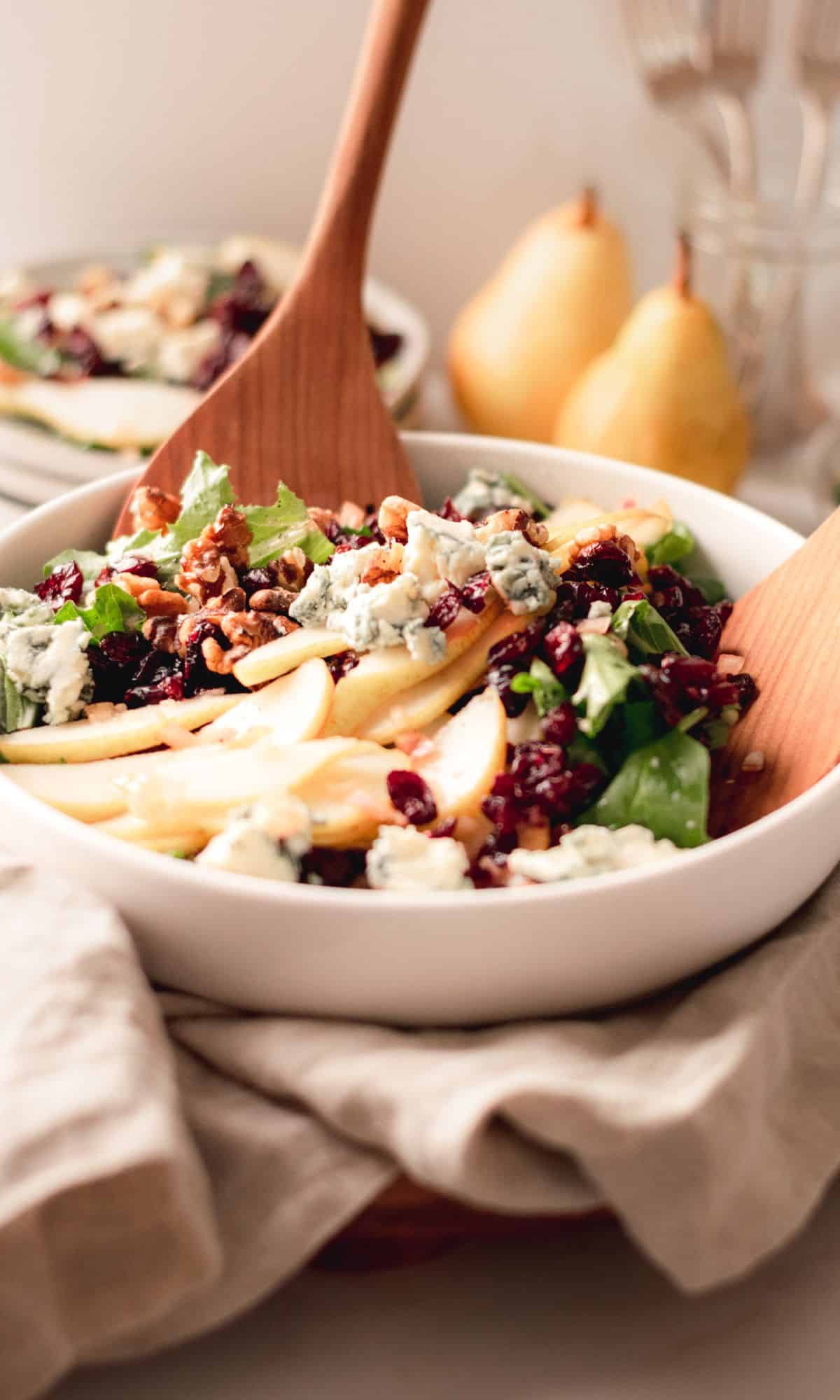 FAQ
Can I use something besides blue cheese?
Sure! You could use feta cheese instead. Feta is not nearly as pungent and tangy as blue cheese, but has a similar texture. Gorgonzola cheese would also be a good option for a slightly toned down cheese flavor.
Can I use something besides walnuts?
You could use toasted almonds or pecans in their place. The roasted walnut oil in the dressing isn't too strong and won't affect which toasted nut you choose to use.
Can I use canned pears?
I recommend using fresh pears for this salad. Canned pears would work if that was the only option, but may alter the taste and texture a bit.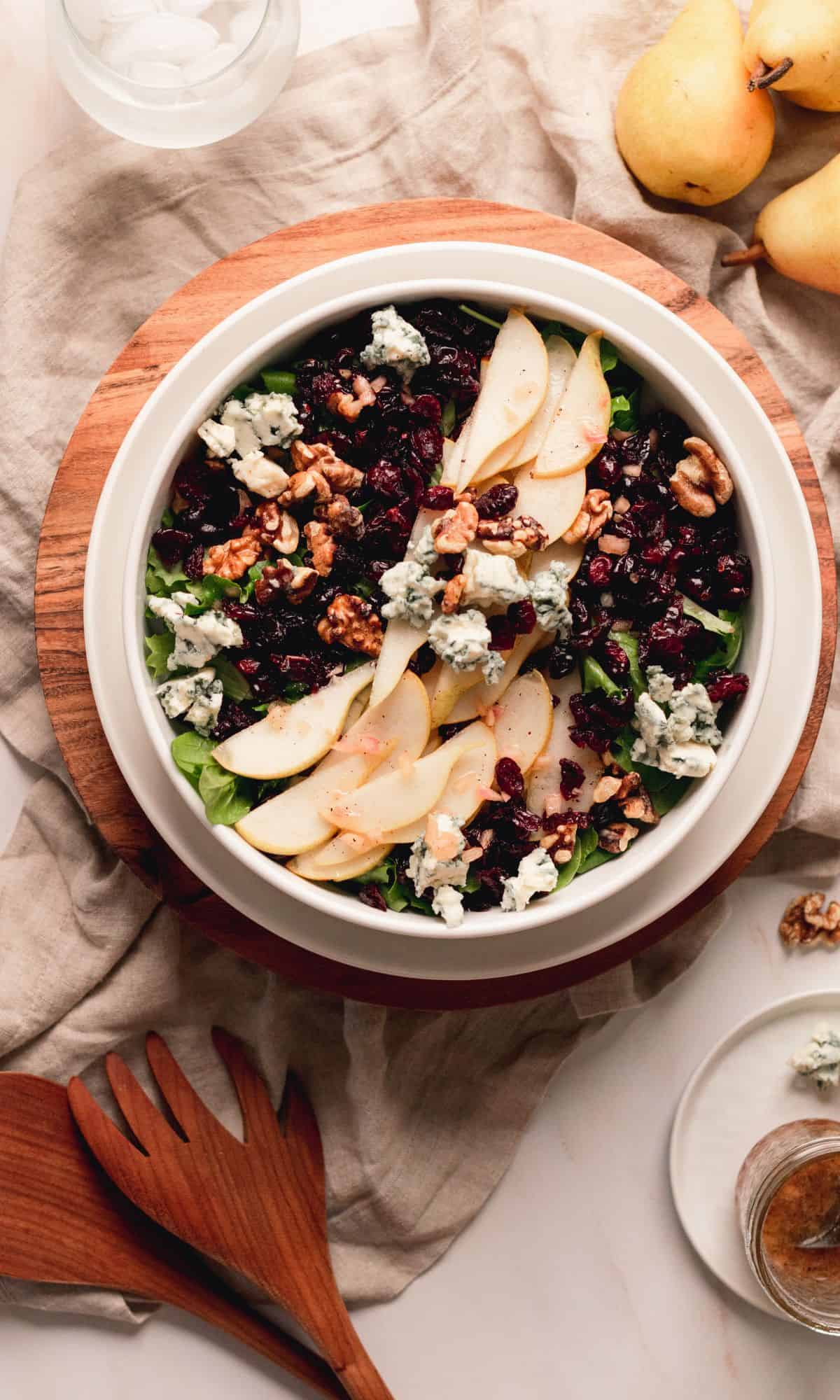 Storing and Freezing
If you know you won't be consuming this all at once, I would not put the salad dressing on the salad. Instead, serve the salad dry and dress each portion individually once it has been dished up on individual plates.
Store leftover, undressed salad in an airtight container for several days in the refrigerator.
If you do dress the entire salad and there are leftovers, you could store it in an airtight container in the refrigerator overnight and eat it the next day. I wouldn't keep it for much longer because it will get mushy pretty quick!
Freezing is not recommended for any part of this salad.
Other Fall Recipes to Try
Don't forget to leave a star rating below! This helps both me and other readers! Follow along on Instagram, Pinterest and Facebook and subscribe to my newsletter so you never miss what Hey, Snickerdoodle is up to!
Recipe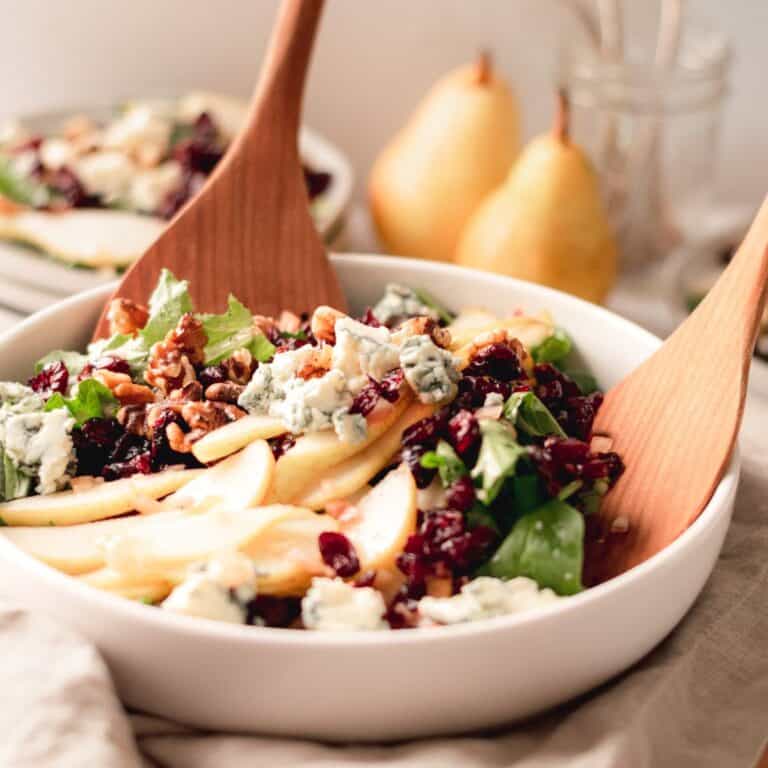 Pear Blue Cheese Salad
This Pear Blue Cheese Salad combines the flavors of juicy pears with sharp blue cheese, toasted walnuts and a tangy walnut oil vinaigrette. This intense flavor combination atop a bed of mixed greens and sprinkled with dried cranberries will be your new go-to salad.
Ingredients
For the Vinaigrette
¼

cup

red wine vinegar

2

tablespoons

shallots, minced

2

tablespoons

walnut oil

2

tablespoons

honey

1

tablespoon

fresh lemon juice

½

teaspoon

salt

¼

teaspoon

black pepper
For the Salad
4

cups

mixed greens

2

pears, thinly sliced

½

cup

toasted walnuts, chopped

½

cup

dried cranberries

¼

cup

blue cheese, crumbled
Instructions
For the Vinaigrette
In a jar with a tight fitting lid, add red wine vinegar, shallot, walnut oil, honey, lemon juice, salt, and pepper. Secure the lid tightly and shake vigorously to combine ingredients.

¼ cup red wine vinegar,

2 tablespoons shallots, minced,

2 tablespoons walnut oil,

2 tablespoons honey,

1 tablespoon fresh lemon juice,

½ teaspoon salt,

¼ teaspoon black pepper
For the Salad
In a large bowl, add the mixed greens. Top with the sliced pears, toasted walnuts, dried cranberries, and blue cheese. Drizzle with about ½ cup vinaigrette and toss gently to coat. Serve immediately.

4 cups mixed greens,

2 pears, thinly sliced,

½ cup toasted walnuts, chopped,

½ cup dried cranberries,

¼ cup blue cheese, crumbled
Nutrition
Calories:
280
kcal
Carbohydrates:
51.4
g
Protein:
8.5
g
Fat:
5.2
g
Saturated Fat:
1.8
g
Cholesterol:
6
mg
Sodium:
476
mg
Potassium:
534
mg
Fiber:
12.1
g
Sugar:
25.2
g
Calcium:
109
mg
Iron:
2
mg