This Easy Creamy Taco Soup recipe is the ultimate comfort food. It has a creamy tomato base and is filled with ground beef, corn and beans. This hearty soup recipe is perfect for a cold day and tastes like a taco in a bowl! It is something the whole family will enjoy!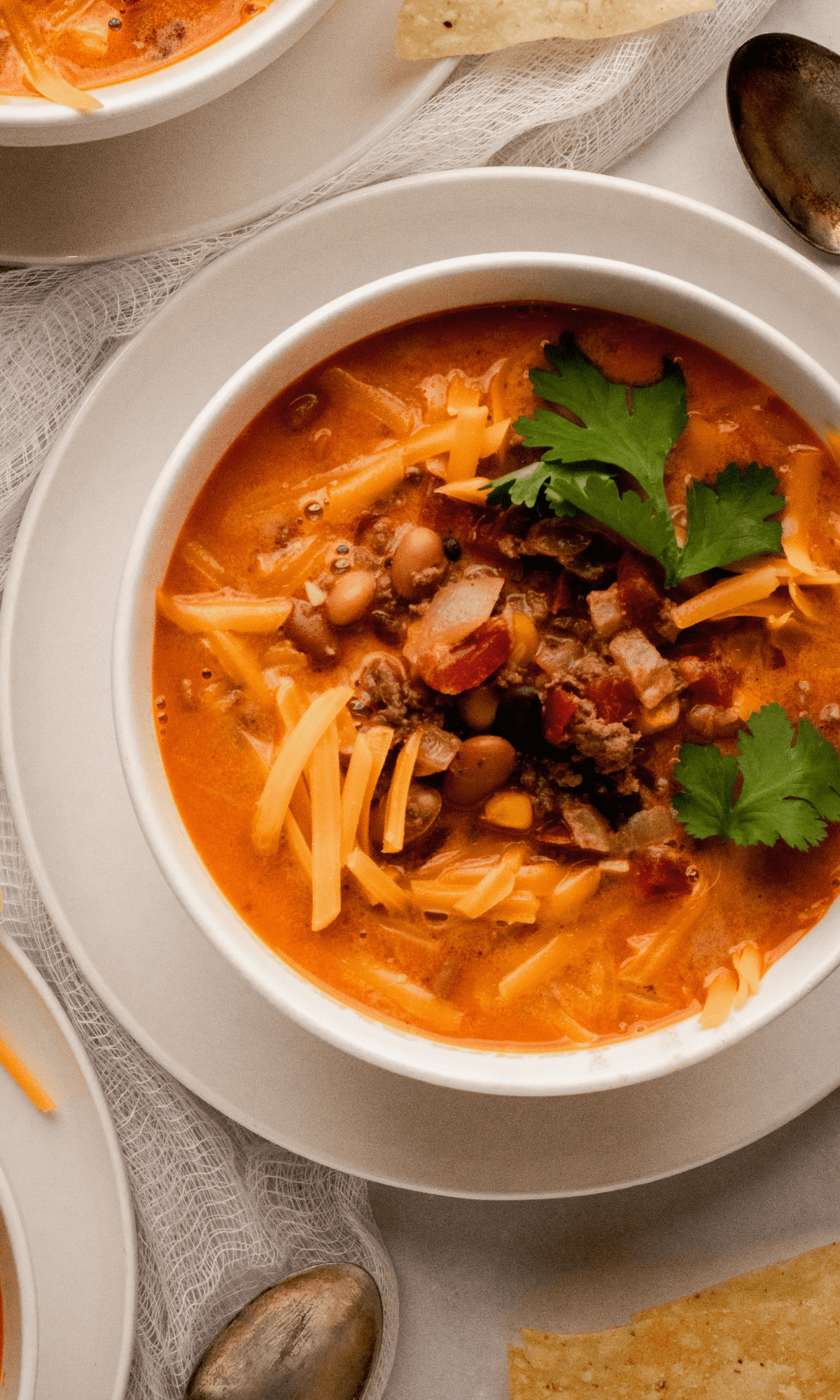 Creamy Beef Taco Soup Recipe
Top this flavorful soup with shredded cheese, diced avocado and serve with tortilla chips for a perfect cozy lunch or dinner and its easy enough to make on one of those busy weeknights!
This homemade taco soup recipe uses the same taco seasoning for the beef as my Double Layer Beef Taco Cups. The ground beef is cooked with onion and jalapeno before being seasoned with cumin, chili powder and coriander.
If you like tacos, then you will definitely enjoy this cream cheese taco soup. It has all the great things your favorite taco has but it's all in a creamy soup form. Could it get any better?
If you looking for more delicious meal options, try one of these recipes: Turkey Pesto Sandwich, Pork Chop Sandwich or Mini Dutch Oven Chicken Pot Pies.
Jump to:
Why You Will Love This
It is creamy. After you have let the soup simmer on the stove top, you add cream cheese and allow it to melt in. This creamy broth gives the soup it's velvety, delicious look and flavor!
It is easy to put together. This great recipe is all made in one pot which makes clean up quite easy. Getting all the ingredients in the pot and simmering on the stove only takes about 15 minutes, so you can prep this in a hurry and have a delicious meal on the table in no time. It's perfect for weeknight dinners.
It is cozy. There is something about a creamy warm bowl of soup with beans and ground beef that just feels so inviting. Eating this on a cold winter night will warm you up from the inside out!
Ingredients & Substitutions
Here are notes about some of the ingredients needed to make this perfect soup recipe. All ingredients can be found at your local grocery store or at an online retailer, like Amazon.
Canola oil: Vegetable oil or olive oil would work just as great for this.
Onion: I prefer a yellow onion for this because it's a bit more mild, but a white onion would work great too!
Jalapeño: The recipe says to seed the jalapeño before mincing. This gives the flavor of the jalapeño without too much heat. If you would prefer this to be on the spicer side, you could always leave the seeds.
Garlic: I buy the minced garlic in the jar for convenience, but you could mince 6 cloves to get the 2 tablespoons of garlic this recipe calls for.
Chili powder
Cumin
Coriander
Ground beef: You will want to choose some fairly lean ground beef for this or your soup will have a layer of grease, and that's not always desirable. I usually get the 96% lean ground beef. Substitute with ground turkey or ground chicken, if you prefer.
Tomato paste: I love tomato paste in a tube. It is a very rare occasion when I use an entire can of tomato paste and this makes so much more sense!
Beer: The recipe calls for Mexican beer. I usually use Corona or Dos Equis because that is what we usually have on hand. Really, you will want to choose a Lager but the brand doesn't matter.
Tomatoes: Undrained diced tomatoes in a can are used for this. If you wanted to add an additional flavor in your soup, get the diced tomatoes with green chilies.
Beans: A can of both black beans and pinto beans that are rinsed and drained are used for this. Red kidney beans would work in place of either can of beans too!
Corn: I prefer to use frozen corn for this, but you could substitute a can of rinsed and drained corn.
Beef broth
Cream cheese: I would stick to full fat cream cheese for this as it melts, and tastes the best! Alternatively, you could add 1 cup heavy cream in place of the cream cheese.
Cilantro: Chopped cilantro is sprinkled on top and I think this is the what really brings this whole soup together!
Cheese: Shredded cheddar cheese is great on top, but you could also use a Mexican blend cheese, Monterey Jack or Pepperjack.
Avocado: Chopped avocado can be added on top for additional flavor.
Tortilla chips: Serve tortilla chips crumbled up and sprinkled on top or on the side for dipping. You could also serve with tortiila strips.
Step by Step Instructions
Here is how to prepare and cook this easy recipe. For the full ingredient list and instructions, see the recipe card below.
STEP 1: In a large soup pot or dutch oven, heat the oil over medium-high heat. Add the onion and cook, stirring occasionally for about 4 minutes.
STEP 2: Add the jalapeno, garlic, chili powder, cumin, coriander, salt, and pepper. Saute, stirring constantly for about 1 minute.
STEP 3: Add the ground beef to the pot and saute for about 5 minutes or until the meat is fully cooked. Use a wooden spoon to break it up as it cooks.
STEP 4: Depending on the fat content of your ground beef, you may want to remove some of the grease by spooning it out.
STEP 5: Add the tomato paste and stir to combine. Let this cook for 1 minute and then add the beer. Using your wooden spoon, scrape the bottom of the pan to loosen anything that has stuck to the bottom. Bring this to a boil and allow it to boil for 2 minutes.
STEP 6: Add the tomatoes, beans and corn. Stir to combine.
STEP 7: Add the beef broth and bring to a boil before reducing the heat to low and simmering for 20 minutes.
STEP 8: Add the cubed cream cheese and stir until the cheese is completely melted. Taste the soup and adjust the seasonings as needed.
STEP 9: Ladle into bowls and top with chopped cilantro, shredded cheese, avocado (if desired) and serve with tortilla chips, lime wedges and fresh cilantro, if desired.
Expert Tips
Here are some tips for making this easy creamy taco soup:
The recipe says to remove the excess grease after cooking the ground beef. To do this, take a bunched up paper towel and grab it with a tongs. Next, tilt your stock pot so the grease falls to one side. Move the beef mixture out of the way so you can use your paper towel in the tongs to soak up the grease. Repeat with a clean paper towel, if needed. I find that this method sops up more than spooning it out. Alternatively, you could just spoon it out.
Use a wooden spoon to break up the meat as it cooks, or use this awesome tool which makes breaking up the meat super simple.
The alcohol from the beer is cooked off and you are just left with the flavor. If you prefer not to use the beer, replace it with 1 ½ cups beef broth, chicken broth or vegetable broth.
Feel free to top the soup with any of your favorite taco toppings. Some other ideas might be corn chips, sour cream, green onions, red onion, chopped bell pepper, crunchy tortilla strips, or avocado slices.
For even more flavor, add a can of green chilies when you add the other vegetables.
FAQ
How can I thicken this soup?
To make this even heartier and bit thicker, double the beans and corn.
Can I use ground turkey?
Yes, you could use ground turkey in place of the ground beef as a healthier option.
Can I used canned corn instead of frozen?
Yes. A can of drained and rinsed corn in place of the frozen corn would work great!
Storing and Freezing
Store leftover delicious taco soup covered in the refrigerator for up to 5 days. (I actually think this is even better the next day!)
Leftover soup could also be frozen in an airtight container or zip top bag for up to 3 months. To thaw, place in the refrigerator and reheat on the stove or in the microwave. Please note that freezing creamy soups can sometimes alter the flavor and texture a bit.
To reheat, heat on medium heat on the stove until heated through. You could also place in a microwave-safe bowl, cover with a paper towel and heat for 1 ½-2 minutes or until heated through.
Other Recipes to Try
Don't forget to leave a star rating below! This helps both me and other readers! Follow along on Instagram, Pinterest and Facebook and subscribe to my newsletter so you never miss what Hey, Snickerdoodle is up to!
Recipe
Creamy Taco Soup
This Creamy Taco Soup is the ultimate comfort food. It has a creamy tomato base and filled with ground beef, corn and beans. This soup is perfect for a cold day and tastes like a taco in a bowl!
Ingredients
1

tablespoon

canola oil

1

Yellow onion, chopped

1

Jalapeño, seeded and chopped

2

tablesooons

minced garlic

1

tablespoon

chili powder

1 ½

teaspoons

ground cumin

1 ½

teaspoons

ground coriander

½

teaspoon

black pepper

½

teaspoon

salt

2

pounds

ground beef

3

tablespoons

tomato paste

12

ounces

Mexican beer

14.5

ounce

can diced tomatoes

15.5

ounce

can black beans, rinsed and drained

15.5

ounce

can pinto beans, rinsed and drained

1 ½

cups

frozen corn

3 ½

cups

beef broth

8

ounces

cream cheese, cubed

Cilantro, chopped

Shredded cheddar cheese

Tortilla chips
Instructions
Heat a large stock pot over medium-high heat. Add oil and swirl to coat. Add onion and sauté for 4 minutes, stirring occasionally.

1 tablespoon canola oil,

1 Yellow onion, chopped

Add jalapeño, garlic, chili powder, cumin, coriander, pepper, and salt. Sauté 1 minute, stirring constantly.

1 Jalapeño, seeded and chopped,

2 tablesooons minced garlic,

1 tablespoon chili powder,

1 ½ teaspoons ground cumin,

1 ½ teaspoons ground coriander,

½ teaspoon black pepper,

½ teaspoon salt

Add beef and sauté until the meat is fully cooked, breaking it up as you go, about 5 minutes. Drain off excess grease

Add the tomato paste and stir to combine. Let the tomato paste cook for 1 minute.

3 tablespoons tomato paste

Add the beer and stir to deglaze the bottom of the pan, scraping up any flavorful little bits.

Add the tomatoes, beans and corn. Stir to combine.

14.5 ounce can diced tomatoes,

15.5 ounce can black beans, rinsed and drained,

15.5 ounce can pinto beans, rinsed and drained,

1 ½ cups frozen corn

Add the broth. Stir to combine. Bring to a boil and then reduce heat to low and simmer for 20 minutes.

Add the cream cheese and stir to combine until the cream cheese is melted. Taste and adjust seasonings, as needed.

8 ounces cream cheese, cubed

Ladle into bowls and top with cilantro and shredded cheddar. Serve with tortilla chips.

Cilantro, chopped,

Shredded cheddar cheese,

Tortilla chips
Nutrition
Calories:
577
kcal
Carbohydrates:
63.5
g
Protein:
44.4
g
Fat:
16
g
Saturated Fat:
6.7
g
Cholesterol:
88
mg
Fiber:
17.9
g
Sugar:
4.1
g
Calcium:
183
mg
Iron:
21
mg