These Shredded Chicken Tacos With Pineapple Salsa are full of flavor and quick to make. They are filled with shredded chicken tossed in lime juice, fresh roasted pineapple salsa and are topped with crumbled salty queso fresco. These will be your new favorite tacos to make for taco night because they are so easy, very delicious and quite healthy too!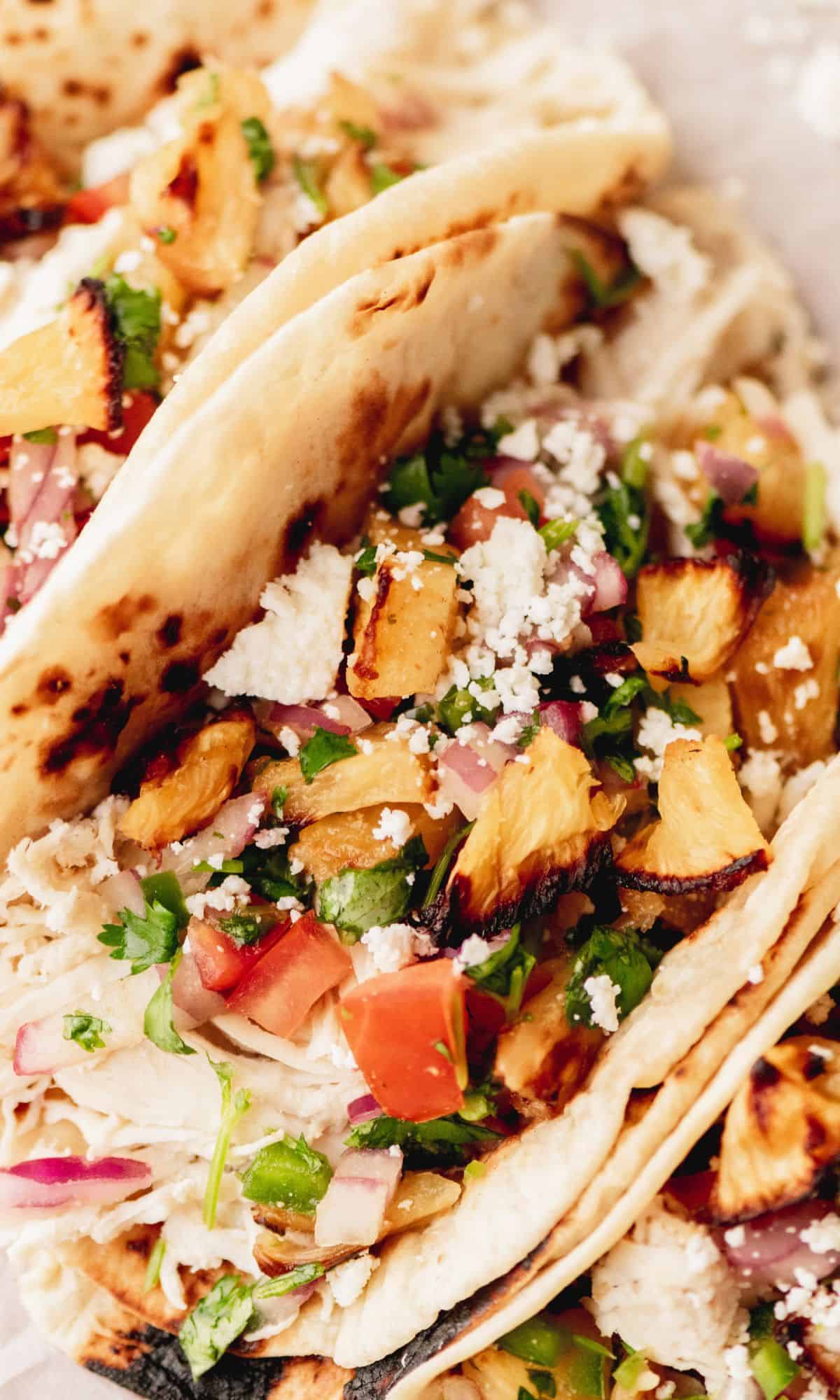 I like to roast the pineapples for this salsa because it tones down the pineapple flavor a bit. You still get the delicious pineapple flavor and you will also get an added caramelized taste from the roasting. This simple homemade pineapple salsa is great with these tacos, but is also great with chips as a snack!
When you make these tacos with shredded chicken and top them with a fresh fruity salsa, it makes a perfect healthy meal for a hot summer day. They go perfectly with a side of Mexican rice, refried beans, tortilla chips...and a margarita, of course for a complete meal!
For more dinner recipes, try Easy Oven Roasted Honey Garlic Pork Tenderloin, Crunchy Baked Cod with Parmesan Panko Crumbs, or Turkey Pesto Sandwich.
Jump to:
Why You Will Love These
They are easy to make. You can make these delicious tacos in about 40 minutes from start to finish. They can easily be made with no special equipment, even though they seem quite fancy. This is an easy dinner to make for your next taco Tuesday.
The pineapple salsa. Roasting the pineapple really brings this salsa to a whole new level. Along with the fresh pineapple, this sweet salsa also has tomato, cilantro, red onion and fresh lime juice. All those flavors work so well together and are also very pretty. The tropical flavors are definitley the best part about these tacos!
The chicken. After boiling and shredding the chicken, it is tossed with lime juice which gives it the perfect flavor to go with the pinapple salsa.
Ingredients Needed
Pineapple: You will need fresh pineapple rings or slices to roast. I like to buy pineapple that is already cut into rings from the grocery store for convenience, but slicing your own works well too. Alternatively, you could buy canned pineapple rings.
Tomato: The recipe says to use one seeded and chopped Roma tomato. You could use ¾ to 1 cup of any type of seeded and chopped tomato though for the same results.
Cilantro: Fresh chopped cilantro will be used in the salsa and as a garnish. You can adjust this to your preference.
Red onion: I prefer to use finely chopped red onion, but have used finely chopped shallot and that is just as good!
Jalapeno: Fresh, seeded and finely chopped jalapeno. If you prefer a spicier salsa, leave the seeds in or use a serrano pepper instead.
Cumin: Ground cumin is what gives the salsa it's yummy savory flavor.
Lime: You will use lime juice from fresh limes in the salsa and in the shredded chicken. If you do not have fresh limes, bottled lime juice would work. One lime is equal to about 2 tablespoons of lime juice.
Chicken: I use one large chicken breast (about 12 ounces) for this recipe.
Chicken broth: This is used to boil the chicken. If you happen to be out of chicken broth or prefer not to use it, water will work fine in it's place.
Tortillas: I use fresh flour tortillas from our grocery store for this. You could use packaged taco sized flour or corn tortillas.
Queso fresco: Crumbled queso fresco is the prefect salty addition to the top of these tacos. You could use feta, monterey jaco or cotija cheese, if you prefer.
Step by Step Instructions
Here is how to make this delicious chicken tacos recipe. For the full ingredient list and recipe instuctions see the recipe card below.
Prepare the Fresh Pineapple Salsa
STEP 1: Preheat the oven to 450°F and line a baking sheet with parchment paper.
STEP 2: Place pineapple rings on the baking sheet and spray them lightly with cooking spray.
STEP 3: Bake in the 450°F oven for 15 minutes. Remove them from the oven, flip them over, spray the other side lightly with cooking spray and bake for an additional 15 minutes.
STEP 4: Remove the rings from the oven and allow them to cool to room temperature.
STEP 5: Chop the pineapple rings and add them to a medium sized bowl with the remaining salsa ingredients (tomato, cilantro, red onion, jalapeno, salt, cumin and lime juice.) Stir to combine.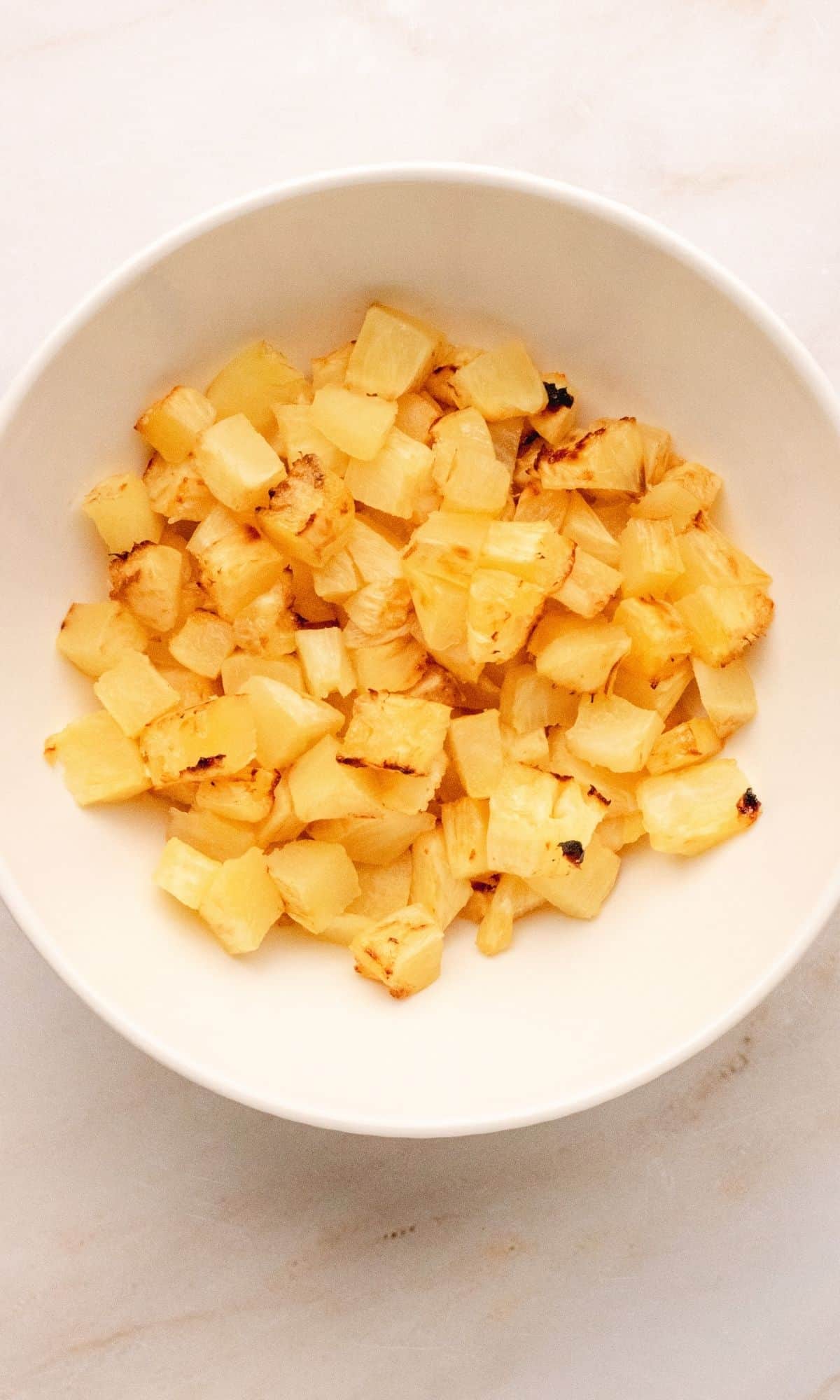 Prepare the Chicken
STEP 1: Place chicken breast and chicken broth in a medium saucepan and heat over medium high heat until boiling.
STEP 2: Allow the chicken to cook in the boiling liquid for 5 minutes. Place a cover on the sauce pan, remove from the heat and let it sit for 15 minutes.
STEP 3: Remove the chicken from the saucepan with a tongs and place it in the bowl of your stand mixer fitted with the paddle attachment. (Alternatively, you could place it on a cutting board and shred it with two forks.)
STEP 4: Turn the mixer on low and allow the mixer, fitted with the paddle attachment, to shred the chicken to your desired consistency.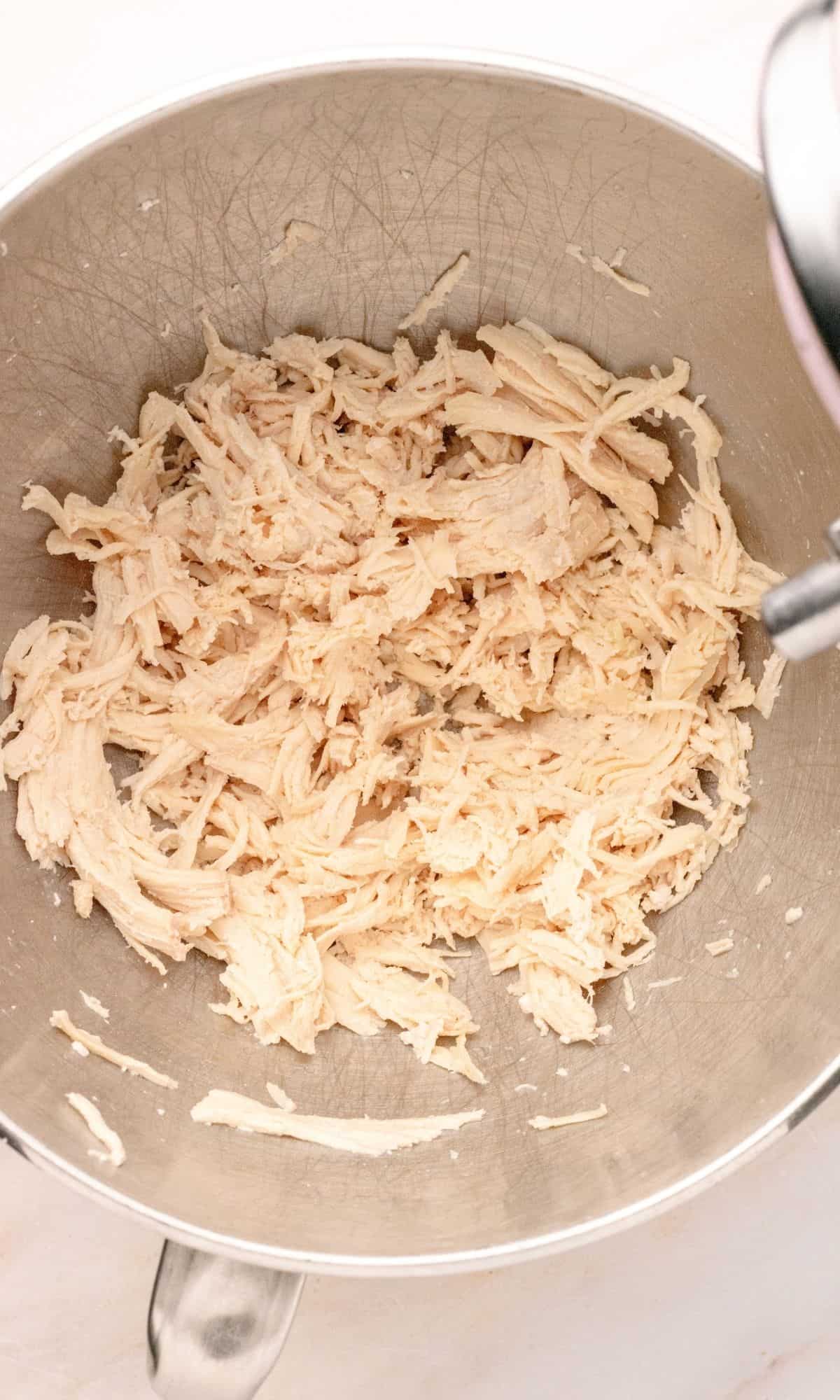 STEP 5: Transfer chicken to a medium bowl and add the lime juice and a pinch of salt to taste. Mix well.
Assemble the Tacos
STEP 1: If you have a gas powered stove, heat one burner over low heat. Place one tortilla directly on the burner and allow it to toast for about 20-30 seconds before flipping it over. Alternatively, you can heat your tortillas according to package insturctions. Keep tortillas warm while you heat the rest.
STEP 2: Place about ¼ cup of shredded chicken filling in the middle of each taco, top with the salsa and queso fresco.
STEP 3: Serve tacos with additional fresh cilantro, lime wedges, additional queso fresco and slices of avocado, if desired.
Expert Tips
Here are some tips for making these easy chicken tacos.
To avoid getting the oils from the jalapeno on your fingers, wear rubber gloves when seeding and chopping the jalapeno. There is nothing worse than forgetting you chopped a jalapeno and rubbing your eyes!
While roasting the pineapple rings, keep your eye on them after you flip them over. Depending on the width of the rings, you may need to adjust the cooking time. You want them starting to get caremlized, but not black.
Prepare the salsa a day ahead of time and store in the refrigerator until ready to use.
If the 2 ½ cups of chicken broth does not cover the chicken breast in the saucepan, add enough chicken broth or water to make sure it is covered before heating over medium high heat.
Check the temperature of the chicken breast after you have let it sit, covered for 15 minutes, in the hot chicken broth. If it is not at least 165°F, you will need to heat it over medium high heat for 5 more minutes, or until the internal temperature of the chicken reaches 165°F. This will depend on the size of your chicken breast.
For an even fruitier salsa, add ½ cup finely chopped apple. The lime and pineapple juice will prevent the apple from turning brown and it adds a bit of crunch to the salsa.
Add sour cream or Mexican crema on top, if you prefer!
Warm tortillas over the open flame on your stove until they are heated through and starting to brown in spots.
FAQ
Can I used cooked chicken?
Yes. You could use leftover cooked chicken or rotisserie chicken for this. Just shred it and toss with the lime juice before assembling the tacos.
Do I have to roast the pineapple?
No, you would not need to roast the pineapple if you did not want to. Fresh, unroasted pineapple has a bit more juice and a stronger pineapple flavor.
Can I use a different fruit?
Yes! This salsa is really good with mango in place of the pineapple. I would not roast the mango but instead just use fresh chopped ripe mango pieces in its place.
Storing and Freezing
Leftover chicken and salsa can be stored separately in airtight containers in the refrigerator for up to 3 days. Heat chicken for 30-45 seconds, or until heated through, in the microwave.
Prepared shredded chicken could be frozen in an airtight container for up to 3 months. Thaw in the refrigerator for several hours before reheating.
Other Recipes to Try
To use leftover cilantro, red onion or jalapeno, try one of these recipes:
Don't forget to leave a star rating below! This helps both me and other readers! Follow along on Instagram, Pinterest and Facebook and subscribe to my newsletter so you never miss what Hey, Snickerdoodle is up to!
Recipe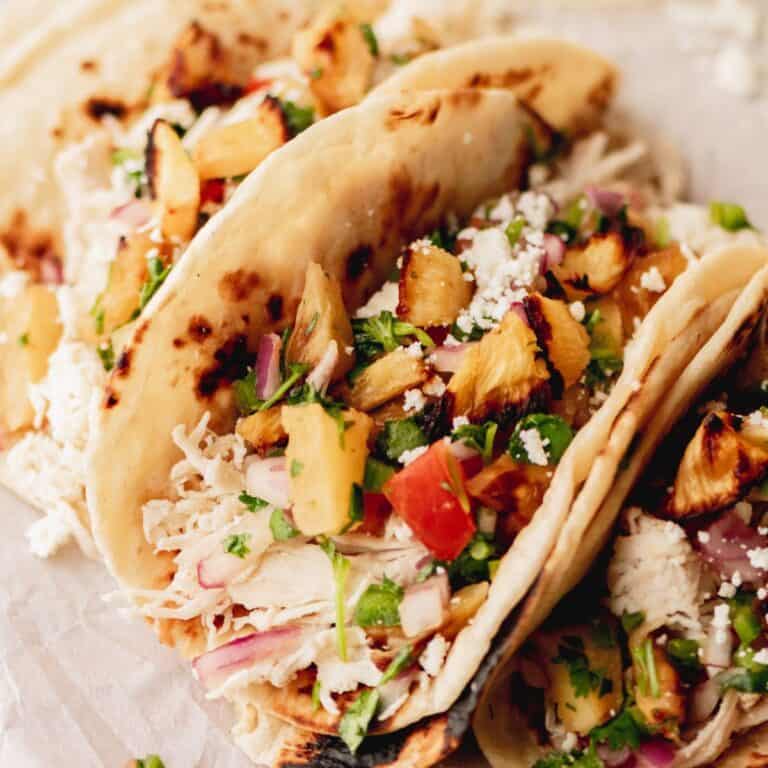 Shredded Chicken Tacos With Pineapple Salsa
These shredded chicken tacos with pineapple salsa are full of flavor and quick to make. They are packed with shredded chicken tossed in lime juice, fresh pineapple salsa made with roasted pineapples and are topped with a sprinkle of salty queso fresco. These will be your new favorite tacos to make for taco night because they are so easy and very delicious!
Ingredients
For the Roasted Pineapple Salsa:
5

fresh pineapple rings

Cooking spray

1

Roma tomato, seeded and chopped

½

cup

chopped cilantro

¼

cup

finely chopped red onion

1

tablespoon

minced, seeded jalapeno

½

teaspoon

salt

¼

teaspoon

cumin

Juice of 1 lime
For the Shredded Chicken:
1

large chicken breast (about 12 ounces)

2 ½

cups

chicken broth

¼

teaspoon

salt

Juice of 1 lime

8

taco sized flour tortillas

1

cup

crumbled queso fresco
Instructions
For the Roasted Pineapple Salsa
Preheat oven to 450°F. Line a baking sheet with parchment paper.

Place pineapple rings on parchment paper and lightly spray tops with cooking spray.

5 fresh pineapple rings,

Cooking spray

Bake in the 450°F oven for 20 minutes, flip them over, spray the other side with cooking spray and then bake for an additional 20 minutes.

Remove from the oven and let cool to room temprature, about 15 minutes.

Chop pineapple into ½-inch pieces and place in a medium bowl. Add the tomato, cilantro, red onion, jalapeno, salt, cumin and lime juice. Stir well and store in the refrigerator until ready to serve.

1 Roma tomato, seeded and chopped,

½ cup chopped cilantro,

¼ cup finely chopped red onion,

1 tablespoon minced, seeded jalapeno,

½ teaspoon salt,

¼ teaspoon cumin,

Juice of 1 lime
For the Shredded Chicken:
Place chicken and chicken broth in a medium saucepan.

1 large chicken breast (about 12 ounces),

2 ½ cups chicken broth

Heat over medium-high heat until boiling. Boil for 5 minutes. Cover and remove from heat. Let sit for 15 minutes or until internal temperature reaches 165°F.

Transfer chicken to the bowl of your mixer fitted with the paddle attachent. Turn your mixer on low until chicken is shredded to your liking.

Transfer chicken to a bowl. Add the lime juice and salt to taste.

¼ teaspoon salt,

Juice of 1 lime

Turn on one burner of your stove to medium-low heat. Set a toritilla directly on top and let it toast for 30-40 seconds before flipping and toasting for 30-40 more seconds.

8 taco sized flour tortillas

To assemble tacos, place about ¼ cup of shredded chicken in the center of each taco. Top with pineapple salsa and queso fresco. Serve with chopped cilantro, lime wedges and additional queso fresco, if desired.

1 cup crumbled queso fresco
Nutrition
Calories:
500
kcal
Carbohydrates:
3.3
g
Protein:
82.9
g
Fat:
14.5
g
Saturated Fat:
3.3
g
Cholesterol:
235
mg
Sodium:
1149
mg
Potassium:
1500
mg
Fiber:
0.7
g
Sugar:
1.9
g
Calcium:
27
mg
Iron:
3
mg